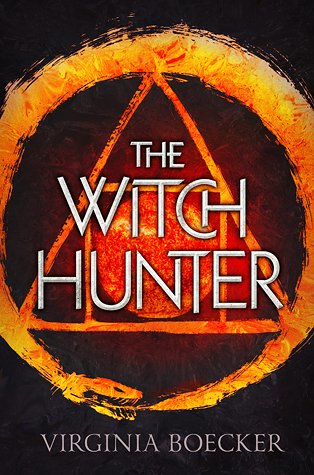 "The magic and suspense of Graceling meet the political intrigue and unrest of Game of Thrones in this riveting fantasy debut.

Your greatest enemy isn't what you fight, but what you fear.



Elizabeth Grey is one of the king's best witch hunters, devoted to rooting out witchcraft and doling out justice. But when she's accused of being a witch herself, Elizabeth is arrested and sentenced to burn at the stake.





Salvation comes from a man she thought was her enemy. Nicholas Perevil, the most powerful and dangerous wizard in the kingdom, offers her a deal: he will save her from execution if she can break the deadly curse that's been laid upon him.





But Nicholas and his followers know nothing of Elizabeth's witch hunting past--if they find out, the stake will be the least of her worries. And as she's thrust into the magical world of witches, ghosts, pirates, and one all-too-handsome healer, Elizabeth is forced to redefine her ideas of right and wrong, of friends and enemies, and of love and hate.





Virginia Boecker weaves a riveting tale of magic, betrayal, and sacrifice in this unforgettable fantasy debut."
NetGalley! Thanks for the copy.
How many of people think that the cover resembles The Deathly Hallows? I'm sure that I'm not the only one, because that triangle seriously throws me off. But surprisingly, The Witch Hunter isn't that similar to Harry Potter other than the presence of witches and wizards, spells and magic. It is even based in a different time, not modern days.
The plot starts off with an almost bang. Virginia Boecker gives readers time to adjust to Elizabeth Grey's era and time period and dialect. I myself find it a bit strange and uncomfortable reading the book until Elizabeth starts kicking people's butts. With a fellow witch hunter and a bet in mind, Grey easily fights the bad wizards and witches. Boecker makes the words and descriptions flow easily, and it is surprisingly simple for Elizabeth to take down witches and wizards (though she does make a terrible and comical entrance).
The world building isn't as great and descriptive as possible. Though I do appreciate the large amount of action and snappy dialogue, the book needs a little bit more spark in the very beginning. The spark does come at about the 1/4 to 1/3 point of the book, when Elizabeth is rescued by the most wanted wizard of all times. By the way, Nicholas Perevil reminds me of Professor Dumbledore from Harry Potter. Just without the humming and eccentricness and the craftiness (okay, not as much as Dumbledore, who simply plays string puppets with main characters throughout the 6th and 7th books).
The plot moves quickly, constantly shifting and flowing easily from one point to another. Everything is practically thrown at me (and the readers), and I wonder how in the world can Elizabeth Grey handle all of the pressure. Cause there is a lot of moving and shaking.
Elizabeth Grey is a kicking and fierce warrior. She is physically strong, and she is mooning over a fellow witch hunter. But once she gets thrown into jail and accused of being a witch, she is in a huge ride and basically, way over her head. Finding new friends, Elizabeth suddenly finds herself questioning everything she knows and everything she believes in. Unsurprisingly, she manages to come on top (minor spoiler, sorry).
Overall, The Witch Hunter is a great first installment and an exciting story of a dedicated witch hunter. There are elements of the Spanish Inquisition here, and I love this fictional world and its characters. I would definitely recommend this to those who love a healthy dose of magic.
Rating: Four out of Five