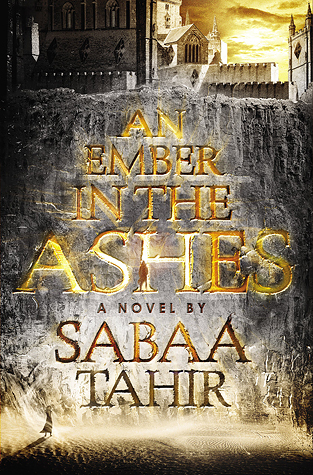 "Laia is a slave. Elias is a soldier. Neither is free.





Under the Martial Empire, defiance is met with death. Those who do not vow their blood and bodies to the Emperor risk the execution of their loved ones and the destruction of all they hold dear.





It is in this brutal world, inspired by ancient Rome, that Laia lives with her grandparents and older brother. The family ekes out an existence in the Empire's impoverished backstreets. They do not challenge the Empire. They've seen what happens to those who do.





But when Laia's brother is arrested for treason, Laia is forced to make a decision. In exchange for help from rebels who promise to rescue her brother, she will risk her life to spy for them from within the Empire's greatest military academy.





There, Laia meets Elias, the school's finest soldier—and secretly, its most unwilling. Elias wants only to be free of the tyranny he's being trained to enforce. He and Laia will soon realize that their destinies are intertwined—and that their choices will change the fate of the Empire itself."
An Ember in the Ashes is the first book of the series. I don't know whether or not it is a trilogy, but one can certainly hope. The second book is apparently being picked up by the publisher, and it seems we'll be getting more of Laia and Elias. The book is a somewhat mixture of Rome (yes, Ancient Rome) and the supernatural. So, let's dig in!
I can't get the love triangles out of my head. Normally, love triangles tick me off, but Tahir puts them together so well that I simply love them. (Skip this paragraph because of minor spoilers.) The major romance is between Laia and Elias. However, there are some minor ones. Laia and Keenan (a rebel) makes an interesting couple, and I like the idea of Helene (a Mask like Elias) and Elias being together. Each pairing is great, and it is incredibly hard to pick a favorite. Sabaa Tahir makes it a very, very difficult choice. I admit that I like all three ships. (Polygamy and polyandry, I guess? That might work.)
The world of An Ember in the Ashes is absolutely horrifying. Implied that women are treated as inferior to men, the Rome-inspired world has a scary military of "Mask." The Mask is actually a soldier who wears a silver mask. There are some gladiator-like scenes, and the supernatural elements of the story gives an incredible suspenseful subplot. Tahir puts mythological creatures, bringing a fairy tale touch to the book.
One of the two narrators, Laia is desperate to save her brother. Making a deal with the shady resistance, she goes to the nest of her parent's murderer and spies on her (Elias' crazy and heartless mother). A Scholar with an intriguing family history, Laia is interesting and a very motivated character. Her feats are grand, and she is a strong-minded character with a naive touch.
The other narrator, Elias is a soldier in the army. He is a Mask, but he doesn't fit well in the army. He is an outsider, though he is surrounded by friends. He is the son of Laia's parents' murderer, but for him, the apple falls far from the tree. He wishes to run away, but it is only fate (and an old friend, Cain) who brings him back. He is a greatly fascinating character, whose complicity serves to protect him from his enemies.
In conclusion, An Ember in the Ashes is a great start to this supernatural and suspenseful series with a Rome-inspired world. It is gritty and dark, not for the faint of heart. Laia and Elias are wonderful narrators, and they bring out the best in each other (so I ship them). The ending is absolutely satisfying with promises for more. I definitely can't wait for the sequel. I would recommend this to any reader with a fondness for love triangles, magic, schemes, and the supernatural/paranormal.
Rating: Five out of Five