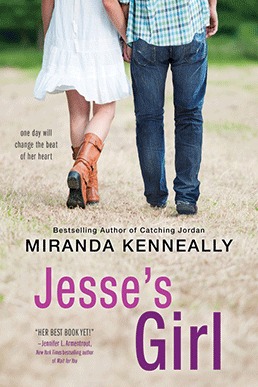 "Practice Makes Perfect.





Everyone at Hundred Oaks High knows that career mentoring day is a joke. So when Maya Henry said she wanted to be a rock star, she never imagined she'd get to shadow *the* Jesse Scott, Nashville's teen idol.





But spending the day with Jesse is far from a dream come true. He's as gorgeous as his music, but seeing all that he's accomplished is just a reminder of everything Maya's lost: her trust, her boyfriend, their band, and any chance to play the music she craves. Not to mention that Jesse's pushy and opinionated. He made it on his own, and he thinks Maya's playing back up to other people's dreams. Does she have what it takes to follow her heart—and go solo?"
NetGalley! Thanks for the copy.
YA Contemporary, Jesse's Girl is perfect as a standalone. The title of the book totally reminds me of a song I frequently hear on the radio. "Jessie's Girl" by Rick Springfield. Although there is a difference between Jessie and Jesse, I can't help but be intrigued by the similarity. Anyway, Jesse's Girl contains spoilers to Miranda Kenneally's other Hundred Oaks book, Catching Jordan. For those readers who already read Catching Jordan, then consider this book containing information to Jordan's Happily Ever After. (Minor spoiler: Happily Ever After is perfect.)
Jesse Scott is a musician. He is the love interest for Maya, and he has a lots of layers. Maya slowly starts peeling each sassy (and a forward, in a truthful way) layer until she finds the real Jesse Scott. Let me tell you. This guy has some serious dialogue and golden moments. He is a great and adorable character, third to only two characters. Those two people? Sam and Maya. He is followed by Jordon herself.
Maya is also a musician. She doesn't sing country (as frequently as Jesse), but she does get some of her motivation from his songs. A complicated character herself, she is timid though Jesse sets off all the wrong buttons (or the right ones???). She has some wonderful and powerful character development, and I absolutely love how she breaks out of her own skin. Jesse is definitely good for her, but it is her who takes the final steps forward.
The chemistry between these two lovebirds is amazing. It is scorching, in fact (8 on the level of 1 to 10). Part of me wishes they will make out already, and another part ships them hard. Jesse and Maya have their flaws, but somehow, that makes them even more perfect for each other.
The plot goes by zooming fast. There are appearances of a motorcycle and an exceptionally fast car (though I can't remember the brand). It is very straightforward, and I'd forgotten how well Miranda Kenneally writes. She easily lets me sink in, and I love how quick and understandable Jesse's Girl is. She manages to combine Jordan's story with Maya's story.
Overall, Jesse's Girl is a fun and witty, romance novel with hilarious pieces of dialogue and a swoonworthy guy. Maya is an excellent character, who may be timid at first but slowly gets underneath the reader's skin. This is perfect for fans of Catching Jordan and for readers who simply love the combo of music and romance. (Last note: I love how Kenneally uses song titles as chapter titles. Perfect.)
Rating: Five out of Five