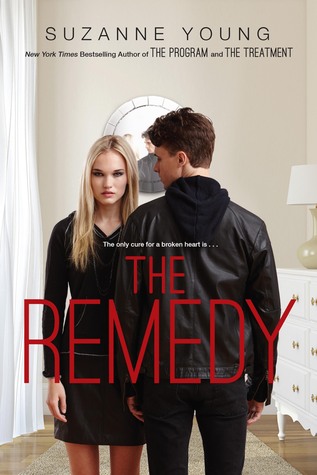 "In a world before The Program…

Quinlan McKee is a closer. Since the age of seven, Quinn has held the responsibility of providing closure to grieving families with a special skill—she can "become" anyone.

Recommended by grief counselors, Quinn is hired by families to take on the short-term role of a deceased loved one between the ages of fifteen and twenty. She's not an exact copy, of course, but she wears their clothes and changes her hair, studies them through pictures and videos, and soon, Quinn can act like them, smell like them, and be them for all intents and purposes. But to do her job successfully, she can't get attached.

Now seventeen, Quinn is deft at recreating herself, sometimes confusing her own past with those of the people she's portrayed. When she's given her longest assignment, playing the role of Catalina Barnes, Quinn begins to bond with the deceased girl's boyfriend. But that's only the beginning of the complications, especially when Quinn finds out the truth about Catalina's death. And the epidemic it could start."
YABC.
A Need So Beautiful is the first book I'd ever read from Suzanne Young. I have to admit that I wasn't a fan of A Need So Beautiful, but I'm definitely a fan of The Remedy. What can I say? Suzanne Young gets better with time. The Remedy is the prequel of The Program, and it stars Quinn as its main narrator (and Deacon has a chapter/spotlight where he absolutely shines).
Quinn is a closer who pretends to be a recently dead person. Doing this since an incredibly young age, Quinn is an incredibly hard character to understand and gauge. She can become anyone, and she can change her personality at will. In a way, she is like a chameleon of characteristics and personalities. But it is the smaller details where one has to look to see the true her. She cares about every family she has ever worked for, and she is one of the best closers. However, pretending has its toll on Quinn. With every person's personality she wears, the more Quinn comes closer to losing herself. Suzanne Young writes a very convincing character who is slowly, very slowly losing herself and her identity. Every time Quinn becomes someone else is a chance for Quinn to disappear completely.
The conflict isn't as straightforward as it could have been. Catalina's death does set off many questions, and the search for answers doesn't give many. It is clear to me that The Remedy is dependent on The Program (the first book in this series). However, we focuses a lot more on Quinn and her mentality state, which is much more interesting than Catalina's death (no offense to Catalina, however).
The plot starts off with Quinn pretending to be a recently deceased girl. It is a bold way in, and Young starts it off with an emotional bang. The story is addicting, and the writing flows very smoothly. The book may not have many action scenes, but it does rely on emotional scenes that are wrecking in its own spectacular and agonizing way.
The ending... is devastating. I simply want to know more and more, and I'm eagerly waiting for a day when I have much time to read for a chance to read the sequel, The Program. I'm left shocked, beyond shocked.
Overall, The Remedy is a twisty and crafty book. Young gets better with time, and she creates a strong story with absolutely full characters and a creepy corporation with a curious and sinister executive. The Remedy is the best from Suzanne Young so far. Perfect for those who love psychological thrillers, the prequel of The Program sets off a great start to a brand new series by Suzanne Young.
Rating: Four out of Five