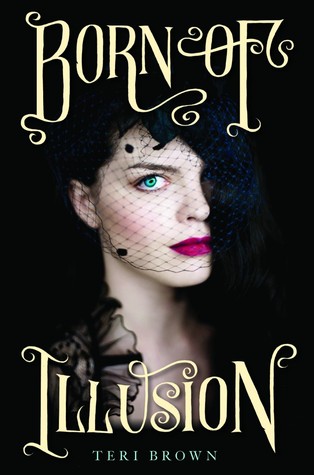 "Anna Van Housen has a secret.

A gifted illusionist, Anna assists her mother, the renowned medium Marguerite Van Housen, in her stage show and séances, easily navigating the underground world of magicians, mediums, and mentalists in 1920's New York. As the illegitimate daughter of Harry Houdini—or so Marguerite claims—sleight of hand illusions have never been a challenge for Anna. The real trick is keeping her own gifts secret from her opportunistic mother. Because while Marguerite's own powers may be a sham, Anna possesses a true ability to sense people's feelings and foretell the future.

But as Anna's powers intensify, she begins to experience frightening visions of her mother in peril, which leads her to explore the powers she's tried so long to hide. And when a mysterious young man named Cole moves into the flat downstairs, introducing Anna to a secret society that studies people with gifts like hers, she is forced to confront her past and rethink everything she's ever known. Is her mother truly in danger, or are Anna's visions merely illusion? And could the great Houdini really be her father, or is it just another of Marguerite's tricks?

From Teri Brown comes a world bursting with magic, with romance, and the temptations of Jazz Age New York—and the story of a girl about to become the mistress of her own destiny."
Born of Illusion isn't really bad. It is actually really entertaining. However (here is the "but), there are some places where the book goes meh... Okay. Something like that.
The historical parts of the book falls. Well, it doesn't fall exactly, but I do wish the author focused a bit more attention to what actually happened. Because this is historical fiction, and you don't exactly want readers to get confused and everything. For example, I doubt Harry Houdini had a love child. However, if he did, I'm sure he hid her a bit better (like up sleeve or something).
Okay, I'll stop joking around. Even though there are countless magician jokes hanging around in my head. So tempting. But... No.
The love triangle. Now that part really sucked. It was always Cole. Cole, Cole, Cole. Not kidding. The "love triangle" should be called one "true love" and "false romantic lead." Pretty much. Not kidding. Again. And I didn't feel any chemistry from either side (Cole and Anna or Anna and that other guy). No chemistry.
Nada. Nothing.
Plus, I wish the author spent more time on world building. I wanted to see more of Anna's world. The historical notes (look to paragraphs above). Everything. Wish, wish, wish. But no... I guess not. Some parts just need to be a bit stronger and everything would be perfect...
And the good parts?
The plot is certainly strong. There is definitely something interesting in the world Teri Brown created, and the plot isn't too bad. It is actually quite bearable. Good, in fact. Definitely not on the negative end of the line.
Anna! She is very observant, although slightly a bit too negative to my taste (though I didn't complain at all). She is a great character, but she is really, really, really contradicting. Or bipolar. I can't figure it out for the life of me.
Rating: Three out of Five
Note: Yes, I was gone for a bit again. Just pulled my disappearance act. I will be back for a bit, but I'm not sure how long I will be around. So busy for the rest of this month and December! I just know it. Plus, I can totally feel the holiday cheer!