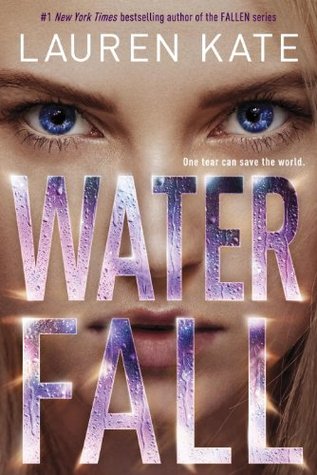 "Eureka's tears have flooded the earth, and now Atlantis is rising, bringing with it its evil king, Atlas. Eureka is the only one who can stop him, but first she must learn how to fight. She travels across the ocean with Cat, her family, and Ander, the gorgeous and mysterious Seedbearer who promises to help her find Solon, an enigmatic lost Seedbearer who knows how to defeat Atlas.





Once on land, Eureka is taunted by gossipwitches, a group of displaced Atlantean sorceresses, and ambushed by locals struggling to survive amid the destruction her tears have wrought. And she feels no closer to facing Atlas or saving the world when Solon lets slip that love is Ander's weakness, and that any affection he feels toward her makes him age faster.





Trying to make sense of the dark world her sorrow has created, Eureka receives startling insight from an enchanted pond. Her bewildering reflection reveals a soul-crushing secret: if she's strong enough, Eureka can draw on this knowledge to defeat Atlas—unless her broken heart is just what he needs to fuel his rising kingdom...





In Waterfall, Eureka has the chance to save the world. But she'll have to give up everything—even love."
Lauren Kate returns in Waterfall. I admit that it has been at least two or three years since I have read the previous book, but I'm sure that I remember enough of it to get by (if only just barely). (And do I? I amazingly do remember enough! Boo, yah! Brain power.)
The book doesn't require much of a reread of the previous book. The first chapter of Waterfall nicely recaps what happens in the previous book through dialogue and the inner thoughts of the narrator. In the climax of the previous book, Teardrop, Eureka's tears have fallen and she has cried. Disaster strikes, and the Apocalypse comes. But not quite. Apocalypse isn't quite there yet. Though there is a freshly made battlefield, there are no fighters or knights alive. There is a tiny chance left for the world, and that is where the story starts.
The book goes where it wants to go. By the time I've read one third of its pages, I realized that I should stop asking questions and just strap myself in to watch the show. It starts getting much more enjoyable after that, and I was thoroughly entertained, though I do admit that I was scratching my head at some points. Slightly absurd, sudden plot twists throws the characters into a new field of study, and action piles on top of action.
Eureka is a character (and narrator) who is struggling between good and evil. She has great temptations, she has an angel on her shoulder and the devil on the other, and she has fears. She loves Ander very much, but there is weakness in that love and it proves to be a perfect source of drama. A lot of drama. She proves herself to be a character of action and initiative and cunningness, and she's starting to grow on me.
But out of all of these pieces making up the story, it is the villain who has captured most of my attention. She's deadly. She's vengeful. She's dangerous, god-like. And she plays a game with evil Atlantis' overlord. Her dynamic with the evil king is truly intriguing, and I would love to see Lauren Kate expanding on their relationship. What makes him so special? Why does she tolerate him so much? What kind of partnership they have?
Overall, Waterfall is a wild sequel that is bringing me back to read more of this series. (And yay, Lauren Kate!)
Rating: Three out of Five