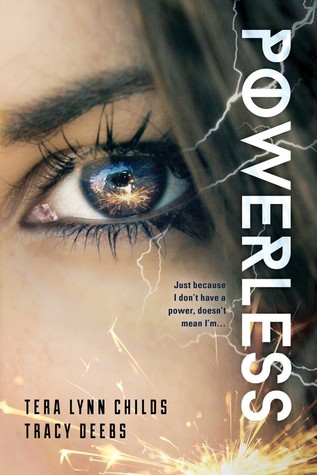 "Kenna is tired of being "normal". The only thing special about her is that she isn't special at all. Which is frustrating in a world of absolutes. Villains, like the one who killed her father, are bad. Heroes, like her mother and best friend, are good. And Kenna, unlike everyone else around her, is completely ordinary— which she hates.

She's secretly working on an experiment that will land her a place among the Heroes, but when a Villain saves her life during a break-in at her lab, Kenna discovers there's a whole lot of gray area when it comes to good and evil and who she can trust.. After all…not all strength comes from superpowers."
NetGalley. Thanks for a copy.
Heroes and villains. Villains and heroes. I admit that I haven't read a lot of superhero comics or books, and reading this is a breath of fresh air from the constant stream of fantasy, paranormal, supernatural books that comes out every single week or so.
Kenna is "normal." The synopsis absolutely lies. Though she doesn't have a power that is outstanding in any way, she does have the ability of being immune to other superhero's powers. For example, if a superhero or a villain throws a fireball at her head, she's not hurt. But that power comes from a serum. Still, she is special in a sort-of Bane (from Batman) kind of way. But in characterization, Kenna has a strong set of morals with little life experience. And that is where the plot/story comes in. Once she meets a bunch of people and go on the greatest adventure of her life, she forms her own conclusions and opinions. She becomes her own person.
The romance between Kenna and a villain isn't that major as the synopsis makes it sound. It's sweet and adorable, but it is also intense and moody. It's difficult for Kenna to overcome the villain prejudice that plagues her throughout the book, and it is also difficult for the villain to overcome his suspicions of her. It leads to a bunch of drama (as always), and when they make up in the end, it is such a relief.
The conflict is truly, truly engaging to read. I love a good mystery, and Kenna's investigation into what is the truth is really fascinating. She begins digging and digging, and things do indeed go bad. The story is action-packed with metahumans, devious people, and awesome teenagers who just so happen to might break wide open a huge conspiracy.
The ending leaves great potential for the sequel. I can't wait to read more of Kenna's story, and I would love for the mystery to be uncovered. The truth must come out, and I have a good feeling about this series...
Overall, Powerless is a fast-paced superhero novel with a mystery, a romance, and a blurred line between the perspection of good and evil. I recommend this to anyone who loves superheroes and enjoys a complex world.
Rating: Three out of Five