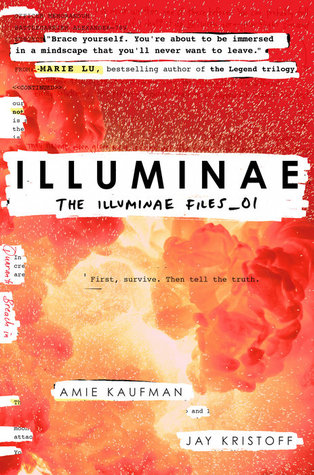 "This morning, Kady thought breaking up with Ezra was the hardest thing she'd have to do.

This afternoon, her planet was invaded.

The year is 2575, and two rival megacorporations are at war over a planet that's little more than an ice-covered speck at the edge of the universe. Too bad nobody thought to warn the people living on it. With enemy fire raining down on them, Kady and Ezra—who are barely even talking to each other—are forced to fight their way onto an evacuating fleet, with an enemy warship in hot pursuit.

But their problems are just getting started. A deadly plague has broken out and is mutating, with terrifying results; the fleet's AI, which should be protecting them, may actually be their enemy; and nobody in charge will say what's really going on. As Kady hacks into a tangled web of data to find the truth, it's clear only one person can help her bring it all to light: the ex-boyfriend she swore she'd never speak to again.

Told through a fascinating dossier of hacked documents—including emails, schematics, military files, IMs, medical reports, interviews, and more—Illuminae is the first book in a heart-stopping, high-octane trilogy about lives interrupted, the price of truth, and the courage of everyday heroes."
Wow. This book is uniquely put together. How did it even get published in the first place? My goodness. The amount of work and sweat must be totally uncountable, and I think the authors and creators deserve a healthy round of applause. Just wow.
Illuminae is a book that is just stunning. It's visual, interacting, and outstanding in its genre. I have never seen or read a book quite like this. And I have never thought that I would be able to connect with its characters from professional documents and transcripts and such, but I so did. And that is an impressive feat.
Kady and Ezra are amusing and hilarious. They are both major characters, but it is Kady whose character arc is especially followed. She is a really awesome, snarky, and intelligent girl who narrative and personality dominates most of the book. She is the hero of the story. Not Ezra who is in the military and fights against a faceless, evil corporation with a ship that's hunting the innocent, but her who is the rebel messing around with the computer systems.
Ezra has his moments, but he is not in the limelight. The other person (which is a very hard label to put on, to be honest) is actually the artificial intelligence called Aidan. Now, that AI is a true character whose character development is creepy. (Well done, by the way.)
The conflict, at first, is a bit complicated to understand. Yes, the world building is hard to picture, especially for those who don't read YA Sci-Fi. Yes, the story is in a strange format that is so unlike its sister Sci-Fi novels. Yes, it's hard to tell who exactly is who and why they are so important/relevant to the story. But I assure you all that the book isn't really difficult to understand when you go with the flow. Trust me. And the story, the battle, the action, the way it is set up... It's so engaging.
Speaking of the world building, have I mentioned how complex and amazing the setting is? Seriously. It's so well thought out, and I absolutely love it. I can't wait to see the sequel and read what the authors have planned next.
In conclusion, Illuminae is a visually stunning book that goes all out. It's very creative and unlike any other book I've ever read.
Rating: Five out of Five