I won a copy from Goodreads First Reads.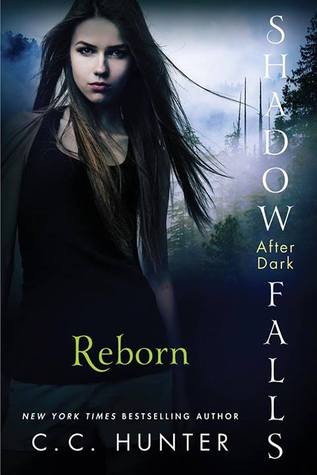 "Return to the beloved world of Shadow Falls, a camp that teaches supernatural teens to harness their powers—and where a vampire named Della will discover who she's meant to be.





For Della Tsang, Shadow Falls isn't just a camp: it's home. As a vampire who's never fit in with her human family, it's the one place she can truly be herself. But when a mysterious new guy arrives at camp, Della's whole world is thrown into turmoil. Chase is a vampire with secrets, who knows more than he's telling. But the more time she spends with him, the more she begins to trust this attractive stranger—and feel drawn to him. But romance is the last thing she wants—as she keeps telling Steve, the hunky shapeshifter who won't stop trying to win her heart. And if Della isn't careful, he just might succeed.  When a new case puts everyone she cares about in danger, Della's determined to do everything she can to save them . . . even if it means teaming up with Steve and Chase, who leave her more confused than ever. With their lives on the line, will Della and her friends survive—with their hearts intact?"
This is a book about vampires, fairies, witches, shapeshifters, and everything in between. Heck, there might even be slayers in this world (Reborn's world, I mean. Not our world. That would be insane). Throw in a couple vampire love interest and a shapeshifter love interest, then you will have Reborn. Along with the previous series, what that is about.
I'll come clean. I never read the previous books, that series or whatever. What is it called? Chosen at Nightfall? I don't know or remember. I don't expect myself to remember. The only books I remember are books I read before. Chosen at Nightfall (or whatever that name is) is not among my read list. However, it would be useful if I had read that book. That way, I wouldn't be so confused in Reborn. The author clearly assumed that I had read the previous book/series, which I hadn't. All the terminology or weapons used by the author were lost in translation. I had only logic and my wits to understand Reborn. Of course, there were a few things I were unclear of, because I never read the previous books.
Second, I must not how similar the cover is to P.C. Cast's series of what's-that-terribly-long-series-which-should-had-been-over-by-now. The darkness and the girl are awfully (not to mention, suspiciously) similar to P.C. Cast's book's cover. Anyway, I just wanted to point that out (and not the possible chances of copycatting).
Third (yes, there is more), I have to talk about the plot, the writing, and the characters. I'm not going to talk about the characters until later. The plot? Well, I'll say that it goes by quickly, but it was not fast enough. Actually, i was in a bit of a hurry, so that might be just my fault. I'm in Wisconsin right now, but I was trying to finish Reborn before my flight started boarding. (I hate reading on a plane; I always feel so woozy). Anyway, C.C. Hunter's writing style is simple enough to understand, but not enough to admire. I didn't see much elegance, because I was more focused on typos (I have an ARC). My copy of Reborn would be much different than the published copy.
And now, it is the characters' turn to be analyzed.
An half-Asian girl named Della stars in Reborn. Even though she claims to be looking more white than Asian, she is really Asian in the inside. I mean, it is obvious she hides all of her weaknesses and shows little emotion on the outside. She is smart and intelligent. Doesn't that sound Asian? Right, guys?
Overall, I think Reborn is a good book. Of course, it can be better (it needs to be). There are tons of plot twists and exciting matters. I think most teens might actually enjoy reading Reborn. I would say (mention, really) one area that totally needs improvement. Chemistry. I won't say any more. That would be spoilers.
Rating: Three out of Five