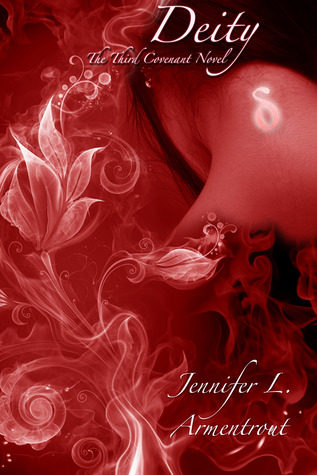 ""History is on repeat, and things didn't go so well the last time. "





Alexandria isn't sure she's going to make it to her eighteenth birthday--to her Awakening. A long-forgotten, fanatical order is out to kill her, and if the Council ever discovers what she did in the Catskills, she's a goner... and so is Aiden.





If that's not freaky enough, whenever Alex and Seth spend time "training"--which really is just Seth's code word for some up-close and personal one-on-one time--she ends up with another mark of the Apollyon, which brings her one step closer to Awakening ahead of schedule. Awesome.





But as her birthday draws near, her entire world shatters with a startling revelation and she's caught between love and Fate. One will do anything to protect her. One has been lying to her since the beginning. Once the gods have revealed themselves, unleashing their wrath, lives will be irrevocably changed... and destroyed.





Those left standing will discover if love is truly greater than Fate..."
Apparently, the Greek Gods do exist. At least in that world. We first see the introduction of Apollo, who happens to be as annoying as Apollo from Percy Jackson. Oh, and there is also his sister. And Lord Death is hanging around, too. And Poseidon. Oh, it is a full party. Some of the Olympians aren't in Deity, but they are certainly there and they do exist in Half-Blood world. Some of the gods yet to make an appearance includes Ares, Athena, Zeus, Hera (that cow lady), the drunk, and a few others.
Deity takes off with a good swing. First of all, we have a bunch of crazy people going around. Plus, we have Seth going possibly insane with his lust for power. And yes, his lust for power grows and grows greater with each second he spends with Alex. It is actually pretty terrible to see him go that way. (And yes! I was right. There was something off about Seth, and now his evil side is all out and in the open). Whoops! Spoiler alert is a bit late.
Alex matures even more. It is nice to see other parts of her. She eventually sees the ugly, yet also seeing the good in bad people (which is probably a dumb idea). She strangely (and yet also unsurprisingly) continues to believe in hope. Also, it appears that Aiden and Alex's relationship is in the clear by the end of Deity. I'm not going to say anything else, but I will tell you that they don't have to be in secret and hiding anymore.
Aiden is awesomer. (Is awesomer even a word?) You have to admit that he might be a little protective (okay, pretty protective) and undeniably hilarious. While I read Deity, I could swear all my smiles are because of him and his words. They are simply funny (to me) and a bit romantic (That I'll admit).
The end of Deity ends with an annoying cliffhanger. Grrr...I hate cliffhangers. That would be why I started the next book without thinking. Then again, in Wisconsin, I'm rarely thinking. I'm only doing and breathing and reading.
Let's talk about Seth. Actually, it begins and ends with insane. There is practically nothing else to be said.
The plot goes wild, as I mentioned before. Actually, I didn't mention it before. It all goes up and up and up until that cliffhanger. Gosh, why am I repeating myself? Ugh. That is terrible of me. Oh, I know why. It is because of the night owl I'm pulling.
Rating: Four out of Five