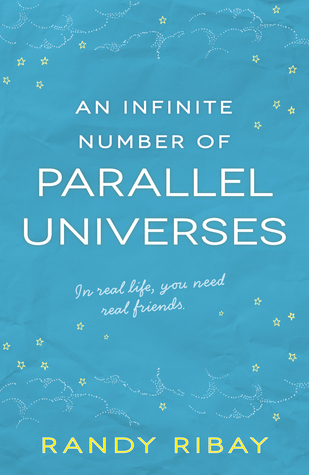 "As their senior year approaches, four diverse friends joined by their weekly Dungeons & Dragons game struggle to figure out real life. Archie's trying to cope with the lingering effects of his parents' divorce, Mari's considering an opportunity to contact her biological mother, Dante's working up the courage to come out to his friends, and Sam's clinging to a failing relationship. The four eventually embark on a cross-country road trip in an attempt to solve--or to avoid--their problems.

Told in the narrative style of Akira Kurosawa's RASHOMAN, AN INFINITE NUMBER OF PARALLEL UNIVERSES is at turns geeky, funny, and lyrical as it tells a story about that time in life when friends need each other to become more than just people that hang out."
I receive a copy in exchange for an honest review.
Random note: There are a lot of great quotes in this book. My favorite one by far is this: "We live in [the United States] where as soon as you turn eighteen the government will ship you overseas to murder strangers." Read it once. Read it twice. And say, damn. Anyway, that is only one out of the many favorites quotes I have. The points these characters (and the book and by extent, the author) makes is amazing, and they fit really well into the plot/circumstances of the characters.
The prose could use some work. Some sections fails to flow well, but overall, it does its job. But some editing would help the book. (On this topic, I would also suggest editing the beginning and fixing some typos.)
Four characters. Mari, Sam, Dante, and Archie. Each of them are unique and different and similar in their own ways. They are all connected to the game of Dungeons & Dragons (which I have never played before to be honest). I empathize best with Dante and Mari. (However, I do lose Dante when someone tried to do an attempted ________ out of hate. That is a strange plot twist that doesn't seem to fit in.)
Mari, who I like the best, is the only girl out of the four-man band, and she writes alternative universes of her friends, her biological mother (Mari is adopted), and herself. Honestly, Mari is the only character I would read this book for. She is awesome, and a speech (to Sam) close to the end of the book highlights her awesomeness.
There are four plotlines. Basically, Mari is struggling with the issues at her wonderful home and a letter from her biological mother. Dante is trying to come out as gay, but his family doesn't like that (because of religion). Archie (the one I connected with the least) begins the story, and I honestly can't remember what his plot is (whoops). Sam and his girlfriend are drifting apart, and he is on a quest (similar to Paper Town's quest for Margo) for his girlfriend.
The ending is definitely one of the best parts of the book. It's memorable, and it ties all four characters nicely.
In conclusion, An Infinite Number of Parallel Universes seems to be a so-so book. But what sets it apart from other YA Contemporary novels is its excellent usage of quotes, a few POC characters (who I understand!), and Mari. Mari is awesome.
Rating: Three out of Five