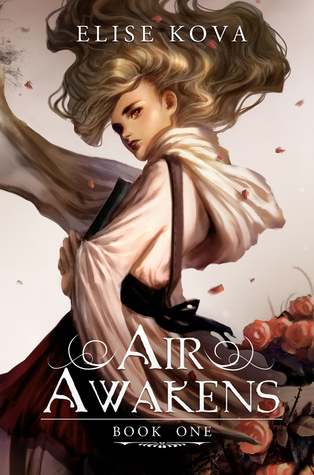 "A library apprentice, a sorcerer prince, and an unbreakable magic bond...

The Solaris Empire is one conquest away from uniting the continent, and the rare elemental magic sleeping in seventeen-year-old library apprentice Vhalla Yarl could shift the tides of war.

Vhalla has always been taught to fear the Tower of Sorcerers, a mysterious magic society, and has been happy in her quiet world of books. But after she unknowingly saves the life of one of the most powerful sorcerers of them all—the Crown Prince Aldrik—she finds herself enticed into his world. Now she must decide her future: Embrace her sorcery and leave the life she's known, or eradicate her magic and remain as she's always been. And with powerful forces lurking in the shadows, Vhalla's indecision could cost her more than she ever imagined."
"Do you trust me?" (The Prince's words.)
"Yes..."
*pushes Vhalla off the building*
And that is the exchange between the sorcerer prince and Vhalla, who was pushed off the roof. Indeed, it is a huge ouch and WTF moment. But weirdly enough, I'm okay with it (but I was not at first, especially when Vhalla broke probably most of the bones in her body on the wall down). The circumstances and motives of that crazy push does get explained, and the prince later does apologize for it.
Vhalla, a lover of books, has magic in her blood. However, she really hates magic until Aldrik (somewhat literally) shows her a whole new world. (Alright, I'm not going to put an Aladdin gif here.) Vhalla is an interesting character, but I wonder why she put so much effort into helping a prince she has only met once. And I'm referring to Aldrik's brother, not Aldrik himself. It takes time for her to accept her new powers, and I really love the development. And hey, magic is cool. Shame Vhalla didn't think so at first.
The prince... My goodness. I have no idea what to think of him. Oh, scratch that. He's a fascinating character, who is unusual in many ways. He is playing a crafty game of politics, and he has great chemistry and sets off wonderful sparks with Vhalla. (That is after he pushed her off the roof, thankfully.) Oh, and he can control fire. So...
The story goes by rapidly, and I'm unable to take my eyes off of it. The prose itself is a bit rough and sharp-edged for me to get used to, but I did get used to it (so it all worked out in the end). There's a decent amount of characters (not too much), and the world building is easy enough to grasp.
The ending... I can't wait for the next book. Unfortunately, it isn't published yet! Grr... Why do I always do this to myself? Oh, right. Masochist streak. (First Red Queen, and then several other books... What have I gotten myself into these days?) But seriously, I can't wait to see what happens to Vhalla and her prince.
Overall, Air Awakens reminds me a bit of The Legend of Korra and other books with elemental-based power. The thing with rare elemental magic of air really strikes a chord with that animation. Also, I can list a whole page of similar books to Air Awakens. It isn't similar to Uprooted or A Court of Thorns and Roses. But... it is good and fun to read.
Rating: Three out of Five