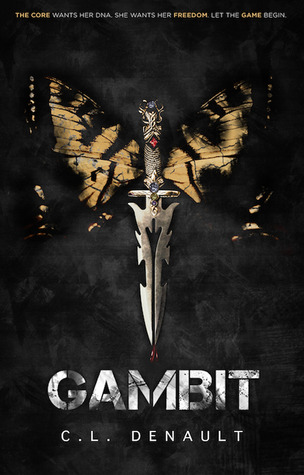 "In Earth's battle-ridden future, humans have evolved. Those with extraordinary skills rise to power and fame. Those without live in poverty.





Sixteen-year-old Willow Kent believed she was normal. But when a genetically-advanced military officer shows up in her village and questions her identity, long-buried secrets begin to emerge. With remarkable skills and a shocking genetic code the Core and its enemies will do anything to obtain, Willow suddenly finds the freedom she craves slipping through her fingers. Greed, corruption, and genetic tampering threaten every aspect of her existence as she's thrust, unwilling, into the sophisticated culture of the elite Core city. To ensure peace, she must leave the past behind, marry a man she's never met, and submit to the authority of a relentless officer with a hidden agenda of his own.





Her life has become a dangerous game. How much will she sacrifice in order to win?"
NetGalley. Thanks for a copy.
Gambit, a YA Dystopian novel, is a thrilling beginning to a new series. I can't help but read parts of it over and over again. I have a list of noteworthy scenes (e.g. the swimming pool scene that involves a certain officer and sneaky rebels). I'll be lying if I say that I find a single scene annoying, unnecessary, or boring.
But let's dig a little more into this delicious book.
Willow Kent is about to get one of the most stunning revelations of her life. After being discovered and genetically tested by Reece (the hot officer I mentioned), Willow is found being a missing heiress to some rich, smart family. Oh, should I mention she is betrothed? Of course, it is not to Reece but to someone from another family (which the book calls "house"). She is a bit of a "brat" and possess a tough personality. (After all, she grew up in a rough place.)
The romance between Reece and Willow is impressive and chemical and explosive. From the very beginning, I can see the connection between the two. Sure, they have a lot of problems (mainly their "hate" for each other). But darn, the scenes and the pieces of dialogue... These two lovebirds better watch out or else they are going to be my next OTP (one true pairing).
The conflict is a little bit unfulfilling (more explanation in the paragraph below). The plot goes by fast, almost too fast. I can't help but turn to the next chapter for more.
The villains. (Want to say "muhahahah" with me?) Gambit hasn't set up most of the villains. One part of the story that needs more information. Mysterious rebels under a charismatic man's rule makes the obvious villain. However, Willow's biological mother provides another possibility for villainship. Still, this area is underdeveloped. (Crossing fingers for more development here!)
The ending is one of the oddest parts of the book. Jarring and strange part to end, but okay. I like how the book is going so far. Definitely watching out for a sequel.
Overall, Gambit is an intriguing and spellbinding story. If you are the one for X-Mens and a forbidden love plus a dystopia, then this one is for you.
Rating: Four out of Five