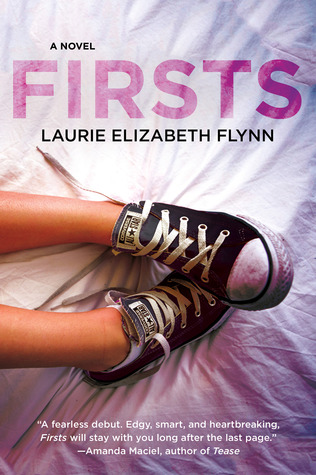 "Seventeen-year-old Mercedes Ayres has an open-door policy when it comes to her bedroom, but only if the guy fulfills a specific criteria: he has to be a virgin. Mercedes lets the boys get their awkward, fumbling first times over with, and all she asks in return is that they give their girlfriends the perfect first time- the kind Mercedes never had herself.





Keeping what goes on in her bedroom a secret has been easy- so far. Her absentee mother isn't home nearly enough to know about Mercedes' extracurricular activities, and her uber-religious best friend, Angela, won't even say the word "sex" until she gets married. But Mercedes doesn't bank on Angela's boyfriend finding out about her services and wanting a turn- or on Zach, who likes her for who she is instead of what she can do in bed.





When Mercedes' perfect system falls apart, she has to find a way to salvage her reputation and figure out where her heart really belongs in the process. Funny, smart, and true-to-life, FIRSTS is a one-of-a-kind young adult novel about growing up."
NetGalley. Thanks for the copy.
Wow. Wow. I think I need a minute or two to find myself after reading this book. Okay, maybe more than a minute. I really need to gather my thoughts.
First of all, yay for sex positivity. (However, there is a little part where Mercedes says to the boy that he shouldn't ask the girl whether or not it is fine to kiss her. Instead, he should take control. I don't know what to think of that, because I haven't thought about it for a long, long time. It's up to you, readers. Problematic or not? Up to you.)
The plot of Firsts is dramatic and intensive. From the very beginning, Mercedes has caught me and my attention. Her voice is distinctive and different, standing out from the hundreds of books I've read before. Not shy about sex at all, she speaks with control and maturity. (And hell, I learn a thing or two, too.) She doesn't laugh at all about the process, and she remains an expert at sexual intercourse. She doesn't flaunt the fact she helps male virgins find their wings nor does she apologizes for her activities.
Men do not know everything. When Mercedes first mentioned that, I suddenly realize how right she is. Men are expected to know everything yet they do not. It is fascinating, and little pieces of quotes such as this (though I'm not accurate in quote-making) make this book all more special and outstanding.
The story is a stunning piece of work. Never for a moment has the book lost my attention. Mercedes gets into a lot of dirty messes, but she remains flawed and most importantly of all, human at the core. Though the book breaks her, she comes back better. She comes back different, and she learns to appreciate her friends.
(On an off-topic note, I wish that the author made Mercedes bisexual. Actually, she might be one from the not-so-subtle subtext. Unfortunately, the author doesn't go into that territory. What a shame.)
In conclusion, Firsts is a book that I'll definitely be rereading again and again. Best recommended for those who love drama, characters that don't shy away from sex, and an amazing world.
Rating: Four out of Five