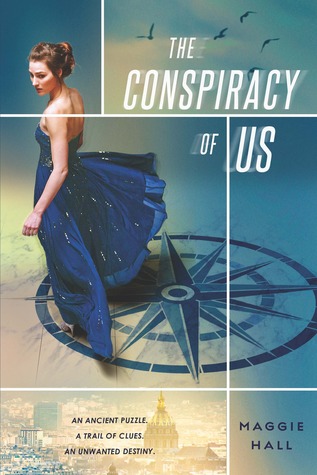 "A fast-paced international escapade, laced with adrenaline, glamour, and romance--perfect for fans of Ally Carter





Avery West's newfound family can shut down Prada when they want to shop in peace, and can just as easily order a bombing when they want to start a war. Part of a powerful and dangerous secret society called the Circle, they believe Avery is the key to an ancient prophecy. Some want to use her as a pawn. Some want her dead.





To unravel the mystery putting her life in danger, Avery must follow a trail of clues from the monuments of Paris to the back alleys of Istanbul with two boys who work for the Circle—beautiful, volatile Stellan and mysterious, magnetic Jack. But as the clues expose a stunning conspiracy that might plunge the world into World War 3, she discovers that both boys are hiding secrets of their own. Now she will have to choose not only between freedom and family--but between the boy who might help her save the world, and the one she's falling in love with."
The Conspiracy of Us is YA Thriller. It is a curious tale of a dark conspiracy hiding behind the workings of everyday workings. The mysterious, secret, controlling, sexist, power-hungry, and intriguing society of the Circle controls everything they ever want to control. Don't like Obama? Well, the Circle can remove him from office. Want to put halter tops back in season? Snap, boom, done. Anna Wintour would (probably) put it in the next edition.
Avery West has been moving around the nation. She never stays in one place for too long, because her mother's job forces her to move around. But on the night of her high school's prom, Avery has enough. She puts on her old dress and escapes. With a Russian boy named Stellan, she eagerly (and rather foolishly) goes to Paris to meet the her father's family. But after getting caught in a nasty situation, Avery becomes someone like Indiana Jones, searching through old artifacts to find the treasure everyone is looking for. With the help of sweet (and safe) Jack, she follows from clue to clue.
The story is an adventure. Jack and Avery goes around Paris and other cities to help Jack's captured mentor. The Order (which is also a secret society and is the enemy of the Circle) holds leverage on Avery, forcing her to hunt the "One," who is predicted to be invincible and unbeatable.
The concept of secret societies is fascinating, and the historical references to Alexander the Great are wonderful. However, the world building of this book is complex and befuddling. Is there magic involved? Is Stellan's ability magical or supernatural? Hopefully, Maggie Hall will expand on that notation, because it is leaving a huge question mark (and plot hole). Also, Maggie Hall describes Paris in a very notable way.
The ending of The Conspiracy of US is a huge "What in the world?" moment. There is an odd blank between the falling action and the cliffhanger. It will take many rereads to get it, but readers will get over the shock.
Overall, The Conspiracy of Us is not the espionage and Ally Carter-like story I expected. It is different and has adventure, mystery, and clues. Avery is a decent character that I can understand. The romance between Jack and Avery is spellbinding, but the chemistry between Stellan and Avery has me confused. (Yes, it looks like there is going to be a love triangle. But think of this book as Jack's limelight.) This novel is best recommended for those who love National Treasure (the movie).
Rating: Three out of Five