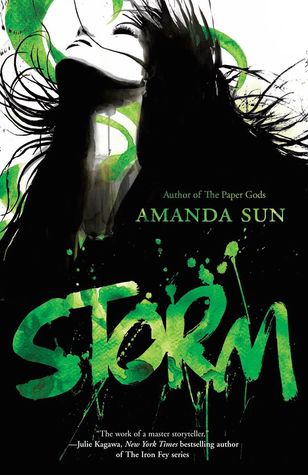 "After almost a year in Japan, Katie Greene has finally unearthed the terrible secret behind her boyfriend Tomohiro's deadly ability to bring drawings to life—not only is he descended from Kami, the ancient Japanese gods, but he is the heir to a tragedy that occurred long ago, a tragedy that is about to repeat.





Even as the blood of a vengeful god rages inside Tomo, Katie is determined to put his dark powers to sleep. In order to do so, she and Tomo must journey to find the three Imperial Treasures of Japan. Gifts from the goddess Amaterasu herself, these treasures could unlock all of the secrets about Tomo's volatile ancestry and quell the ink's lust for destruction. But in order to complete their quest, Tomo and Katie must confront out-of-control Kami and former friend Jun, who has begun his own quest of revenge against those he believes have wronged him. To save the world, and themselves, Katie and Tomo will be up against one of the darkest Kami creations they've ever encountered—and they may not make it out alive."
I already read Ink, which I absolutely adore and love. Rain doesn't meet my expectations, but Storm certainly hits the right marks. It is darker than Ink, and Amanda Sun takes a deeper step into Japanese mythology. I myself have never heard of these gods before (examples include: Amaterasu, Susanoo, Tsukuyomi), but their stories are fascinating. They remind me of Greek mythology, but unlike Greek mythology, these stories are a breath of fresh air. Though they are ancient, they are created anew by Sun's pen.
(Also, yay for cultural diversity!)
Tomohiro is the sassy guy the girls hate/love. His dark side is truly explored, and though it is a very dark time for both Tomohiro and Katie, he makes the best of it and cracks little jokes here and there. These jokes provide the wonderful relief from the darkness along with some excellent pieces of dialogue.
Katie's hidden powers in ink has been reawaken in Rain. She is a character who has been tossed into the wrong situation at the wrong time. But she, like Tomohiro, makes the best of it. Unlike Tomohiro, she remains hopeful even in the face of darkness and horror. Katie is easy to empathize and understand with, and she has great chemistry and banter with Tomohiro. Though the banters aren't as frequent as Ink, they still hold the perfect amount of chemistry and adorableness in them.
The world building of Storm is amazing, and Amanda Sun does a great job with the descriptions. I can shiver whenever she describes ink as similar to blood. Drip, drip, drip. It brings about the perfect creepy feelings she's trying to hit. The mythology behind the Tomohiro's ink powers is fascinating, and readers will definitely be interested in Japanese myths. There is something very satisfying about Amanda's way of portraying Japanese gods and goddesses. She also does a good recap of what has happened in Ink and Rain.
The plot of Storm is perfectly paced, and I have absolutely nothing to complain about. The conflict is amazing, and I enjoy the Jun vs. Tomo dynamic. The author does a good job of weaving the past and the present plots together, and parallels ensure. The Imperial Treasures subplot isn't very strong, but the drama of the story makes up for it.
Overall, Storm is a strong ending to the trilogy of Paper Gods. There are a lot of chemistry, great mythology, amazing world building, troubling relationships, and an awesome conclusion. Storm cleans up the entire trilogy very well, and all (if not most) loose ends are tied up in a neat bow. I would recommend this to anyone who loves mythology and romance.
Rating: Four out of Five