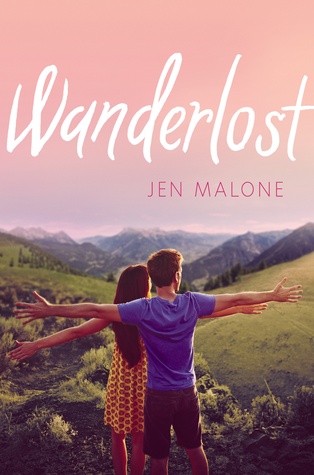 "Not all those who wander are lost, but Aubree Sadler most definitely is on this novel's whirlwind trip through Europe.





Aubree can't think of a better place to be than in perfectly boring Ohio, and she's ready for a relaxing summer. But when her older sister, Elizabeth, gets into real trouble, Aubree is talked into taking over Elizabeth's summer job, leading a group of senior citizens on a bus tour through Europe.





Aubree doesn't even make it to the first stop in Amsterdam before their perfect plan unravels, leaving her with no phone, no carefully prepared binder full of helpful facts, and an unexpected guest: the tour company owner's son, Sam. Considering she's pretending to be Elizabeth, she absolutely shouldn't fall for him, but she can't help it, especially with the most romantic European cities as the backdrop for their love story.





But her relationship with Sam is threatening to ruin her relationship with her sister, and she feels like she's letting both of them down. Aubree knows this trip may show her who she really is—she just hopes she likes where she ends up."
YABC.
On summer break and stuck at home?
Well, books clearly are your answer. And traveling across Europe (though in a book) is a great idea of a vacation. And Wanderlost contains a group of senior citizens, a case of impersonating another person (who knows all about the scheme), and a romance against the backdrop of Europe. YA Contemporary Romance, Wanderlost is the perfect fit for those stuck indoors for the rest of the (hot!) summer season.
Let's start with the conflict of the story. Somehow, Aubree's sister, Elizabeth, manages to get Aubree into impersonating her. Pretending to be someone else in another country, Aubree has to dodge all those bullets and prevent anyone from finding out the truly terrible thing Aubree is doing for her sister. Of course, naturally, it all fails spectacularly (and a bit amusingly too). But the dramatic tension of Aubree and the secret's impeding reveal is exactly what gets me into the story and keeps me reading. When will they find out? What will happen? How would they survive the aftermath?
You may find it surprising that though the romance is front and center in the story, I'm far more interested in Aubree's relationship with the seniors and especially this: her relationship with her sister, Aubree. They have their severe ups and downs, and their relationship is cluttered with complicity and ambiguousness. Elizabeth's interpretation of Aubree's character is so much different than what Aubree thinks; Aubree and Elizabeth are two far different people yet they are siblings and their dynamic with each other is absolutely fascinating to watch. It's far more interesting than the romance, as I have said before.
Aubree is a stellar character. She isn't strong in the typical way, and she is so likable (especially when compared to her sister, Elizabeth, who is quite unique and tough in her own way). In Europe, she discovers herself and comes out of her sister's shadow.
The ending is a bit unrealistic, but for a romantic like me, I absolutely love it. Everything ends cleanly, Elizabeth and Aubree's relationship improves, and well... Aubree does get the guy. (So for those looking for HEA, here's one right here.)
Overall, Wanderlost is a perfect summer novel that can easily make me forget about California's excessive heat while taking me across Europe with a well-developed cast of characters. For those who love romance, this is a good book to read.
Rating: Three out of Five