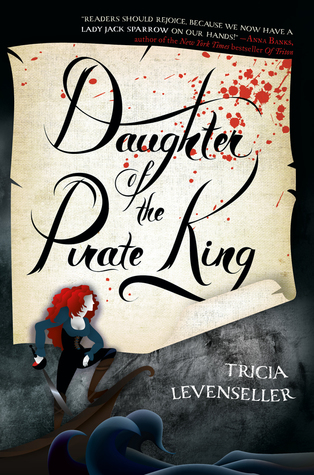 "There will be plenty of time for me to beat him soundly once I've gotten what I came for.
Sent on a mission to retrieve an ancient hidden map—the key to a legendary treasure trove—seventeen-year-old pirate captain Alosa deliberately allows herself to be captured by her enemies, giving her the perfect opportunity to search their ship.
More than a match for the ruthless pirate crew, Alosa has only one thing standing between her and the map: her captor, the unexpectedly clever and unfairly attractive first mate, Riden. But not to worry, for Alosa has a few tricks up her sleeve, and no lone pirate can stop the Daughter of the Pirate King."
YA Fantasy, DAUGHTER OF THE PIRATE KING mixes the supernatural with good ol' piracy. Fans of PIRATES OF THE CARIBBEAN (especially the third movie) would absolutely enjoy the first installment of this exciting series. If you are like me, you would remember the little Syrena and Philip plot. Alosa and Riden constantly remind me of their romance, and I absolutely adore the two couples' romantic relationships.
Looking for action? The plot is a constant adventure, as moving as the waves of the ocean are and as swift as a fired cannon ball. Alosa, the female captain in a male-dominated field, is sent by her father for a mission to find a treasure map. From intrigue to mystery to sword fights to the supernatural to backstabbing to evil plotting, this novel is most certainly out to thrill. There is not a single moment where the story stops moving.
Alosa is a strong-willed female protagonist. Carrying an aura of mystery, she does do a lot of explanation in her narrative that do not distract from the story itself. Though she knows much about the art of piracy, her somewhat naive nature makes her endearing. With every paragraph and chapter, she grows and evolves to be a bit wiser, more compassionate, and perhaps also a tiny bit funnier. (It would be wonderful if the author expands a bit more on the relationship between Alosa and her crew. There's hints of this to come in the next installment, though.)
Riden and Alosa's chemistry is off the charts. Their banter gives the book life, and though Riden may be one of Alosa's "captors" (in which, Alosa willingly goes along with Riden and his brother for her mission), Riden is open to Alosa and lets her into his heart. He learns from her just as Alosha learns from him. Snarky and humorous, he's such a lovable (and brave and admiring) character.
The ending leaves a huge and thrilling opening for the next installment in this series. Leaving a certain piece of the puzzle missing with a dangerous enemy lurking in the shadows, the book leaves quite a lot for Alosa to do and tackle. I can't wait to see where Levenseller takes the story next.
Overall, DAUGHTER OF THE PIRATE KING is an amazing adventure with romance, magic, humor, and a cast of endearing characters. You won't want to miss this.
Rating: Four out of Five