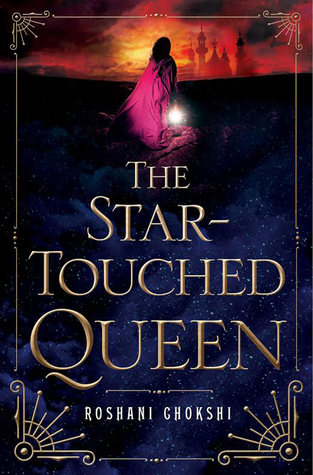 "Fate and fortune. Power and passion. What does it take to be the queen of a kingdom when you're only seventeen?





Maya is cursed. With a horoscope that promises a marriage of Death and Destruction, she has earned only the scorn and fear of her father's kingdom. Content to follow more scholarly pursuits, her whole world is torn apart when her father, the Raja, arranges a wedding of political convenience to quell outside rebellions. Soon Maya becomes the queen of Akaran and wife of Amar. Neither roles are what she expected: As Akaran's queen, she finds her voice and power. As Amar's wife, she finds something else entirely: Compassion. Protection. Desire...





But Akaran has its own secrets -- thousands of locked doors, gardens of glass, and a tree that bears memories instead of fruit. Soon, Maya suspects her life is in danger. Yet who, besides her husband, can she trust? With the fate of the human and Otherworldly realms hanging in the balance, Maya must unravel an ancient mystery that spans reincarnated lives to save those she loves the most. . .including herself.





A lush and vivid story that is steeped in Indian folklore and mythology. The Star-Touched Queen is a novel that no reader will soon forget."
YABC.
The first time I read this book, I fell in love. It takes the first chapter for me to smile, and I happily devour the book without a single care for the world. Mythology, mythology, and mythology is like catnip for me. I can't resist it, and I will always come after it. Whether or not I like it is another question, but I'm confident enough to say that I like this catnip.
YA High Fantasy, The Star-Touched Queen has wonderful prose, a beautiful use of words, and a lovely, almost poetic style. It's what draws me into the book in the first place (along with the main character, Maya, whose narration is really enticing). It grabs onto the reader tightly, and it doesn't let go (and I doubt anyone wants to let go). From the very first words and the beginning, I can't help but smiling and admire Maya's personality and strength that is shown through her dialogue and internal thoughts.
Maya has a cursed horoscope. (I admit that I'm not too into horoscope, but Maya's horoscope is particularly interesting because she is predicted to be in a marriage of death and destruction.) It isn't the only thing about Maya. No, Maya is trapped in a royal life and subjected to be obeying the whims of her husband and brothers and father. She longs for choices, and the second she has a choice, she begins to make her move and become... Well, larger than life itself. A legend, really.
The romance is a vital part of the story, and I absolutely adore it. It's similar to old myths and fairy tales yet also an unique animal of its own. Familiar stories that immediately come to mind are "Beauty and the Beast," "Cupid and Psyche," but especially "Persephone and Hades." It's a strange mix between them all, as if Chokshi has taken bits and parts to make her own story. But nevertheless, the romance will draw you in.
The story begins at the very word, and I'm enchanted from the riddles to its compelling mystery to its curious male lead with a certain aura around him. Magic is everywhere and in the very words of this novel.
The ending is perfect. It's a nice conclusion that leaves me wishing for a sequel yet also afraid, because I don't want a sequel that might ruin this standalone. But I want more of the flesh-eating horse, the tragic villain, the main character, the prose, the setting of an ancient world with kingdoms clinging close to the fate the stars reveal... And I could go on and on and on, but you get my point, right?
In conclusion, The Star-Touched Queen is perhaps the best book I've read in 2016 so far. Hands down. With a delicious and spellbinding romance and its beautiful setup and roots in fairy tales, The Star-Touched Queen will leave you satisfied yet also craving for more.
Rating: Five out of Five